Description
Brown Film Faced Plywood
Brown Film faced plywood is a product category that is excellent for project-based application and is simple to use from a cost-effective tool. Due to its resistance to moisture and water, it is the perfect material for reuse. It is popular due to a variety of factors, including its light weight and lack of additional strain on the application area. The benefits of plywood, which express the foundation of applications in many industries, particularly construction.
A variety of veneer pieces coated with resin are pressed together to create plywood, which has several uses. It is the most widely used product for both indoor and outdoor purposes, and its sector is constantly growing. You should be familiar with the traits and advantages of various plywoods in order to select the best plywood for a task.
Exterior plywood with a brown film face is utilized in building and construction projects. It has a brown film coating made of phenol or melamine glue and is more flat and brilliant.
Due to its higher density and increased strength, Brown Film Faced Plywood is a preferable choice for waterproof applications. In comparison to regular plywood, the brown layer can increase the plywood's resilience to moisture, abrasion, chemical deterioration, and fungal attack. This brown film faced plywood makes the concrete surface more smooth and attractive, making it easier to decorate and reducing the need for plastering. This can reduce and contact 30% of a project's time.
It is not corrosive and won't contaminate the concrete's surface. A collection of wood veneers that have been glued together to form a flat sheet is called plywood. Plywood is a very adaptable commodity that can be utilized for a variety of structural, interior, and exterior applications, from formwork to interior paneling.
Brown Film faced plywood is also known as concrete form, shuttering plywood, and formwork plywood. It is a unique type of plywood that has a wearable and water-resistant layer covered on both sides. The film is made of paper that has been impregnated with adhesive, as opposed to melamine paper overlay, PVC, MDO, and HDO. The film's purpose is to prolong the useful life of the plywood by protecting the interior wood from moisture, water, and the elements. Shuttering plywood, formwork plywood, concrete formwork, floorboard, and vehicle construction are examples of plywood products that can be used in severe and outdoor environments.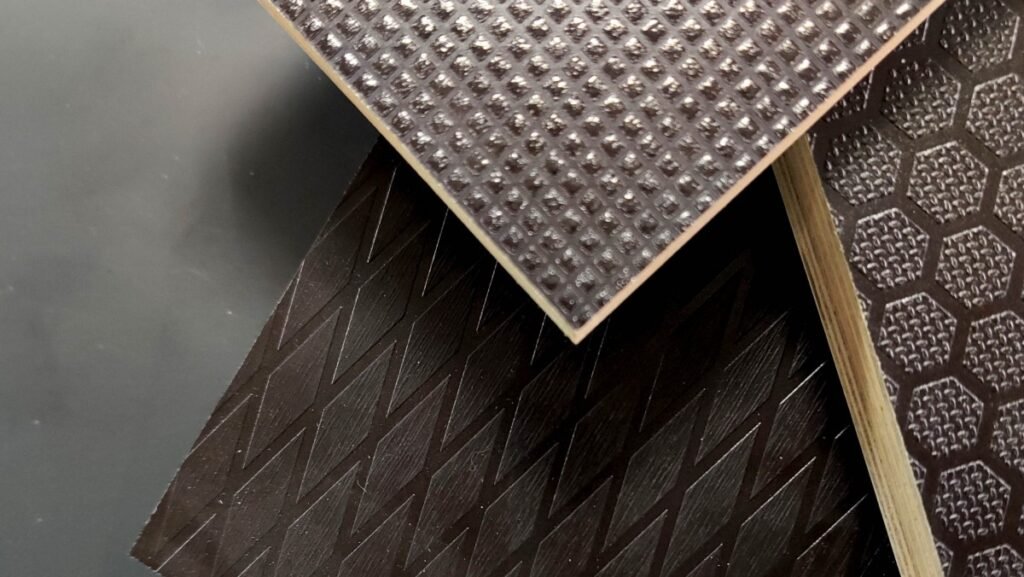 brown film faced plywood features
Compatible with finished goods.
Both indoor and outdoor applications are perfect for this kind of plywood.
Maintains performance traits under settings of extreme humidity.
It doesn't deteriorate, distort, or get worn down.
It is a substance that can be utilized frequently in the building industry as a mold material.
Water and moisture resistant with a high turnover rate
For the construction of bridges and high-rise buildings, smooth, flat film is preferable.

Application
Brown film faced plywood is light, resists water and corrosion attack, is simple to combine with other materials, is clean, and is simple to cut. The edges of the film-faced plywood are made extremely water- and wear-resistant by being painted with waterproof paint. It can be utilized in open environments in architecture and construction, such as warehouses, railroad carriages, floors, and truck sidewalls, due to its resilience and readily handled surface.
Environmental
A brand-new form of environmentally friendly material is plywood with film facing. Although the exterior is a film-coated plastic, the interior is made of wood. It can be applied in a variety of situations, such as the construction of concrete walls, bridges, high-rise structures, tunnels, or concrete earthwork pillars. It is also frequently used when pouring cement onto concrete walls or concrete floors. Brown Film faced plywood combines both the advantages of plastic templates as well as the traits of hardwood film templates.
If you are interested in our products, please feel free to contact us