Maple veneer
Typically, maple veneer is a creamy white to light yellow wood with pink undertones that darkens to a deep pale gold color with age. The hardwood maple is robust, dense, and very simple to deal with. It has a fine, consistent grain and a smooth feel. It will accept stains and finishes well, but is typically finished with a clear coat that enhances the color and beauty of the wood's natural grain while preserving the warmth of the wood.
Download maple plywood catalog
Maple plywood veneer grade catalogue
Maple veneer faced plywood sheet
Sliced flat One of the several species' cuts available on the market is maple veneer. One of the most common species in the US is maple veneer, and Oakwood offers more than 20 different types and cuts of it. Due to weather, moisture, and humidity, it is considered to be a softer wood and can shrink or expand by up to 7% of its dimensions size. This is why it is crucial to comprehend the proper installation methods for Maple Wood Veneer.
For more information, please visit our acclimation page or contact one of our veneer experts. As a side note, the trees from which this veneer is derived are also used to make maple syrup. When trying to match the color of an existing piece of wood, maple veneer is the best option because it absorbs stains and finishes well. Plain sliced or crown cut are additional names for flat cut.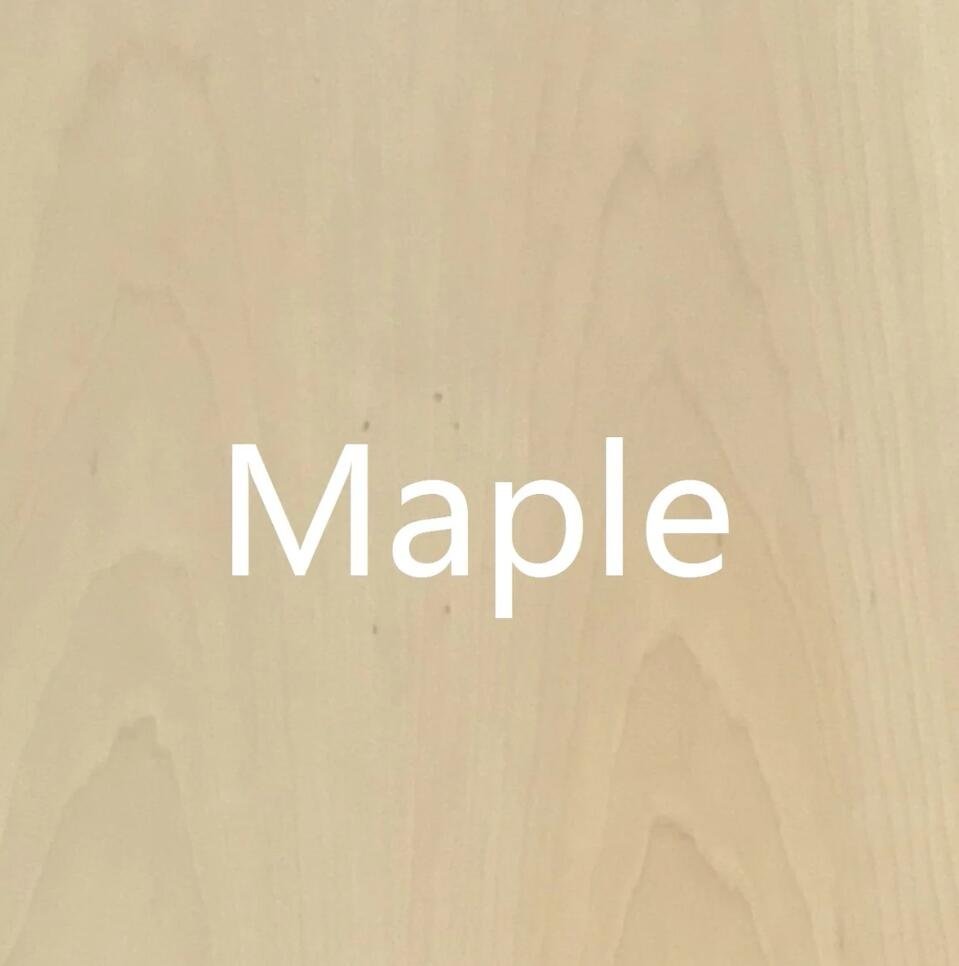 There are many sizes of maple veneer sheets in both standard and premium quality, with a variety of backer options. These materials include phenolic, wood-on-wood (WOW), 22.2mil BFV (bubble-free veneer), 10 mil (for pressing), and 3M/PSA (peel and stick). Peel & stick veneer is a special order item that cannot be returned. If uncut and returnable, all other in-stock veneers are refundable without incurring a restocking fee.
Most maple veneer is made using a crown cut technique from carefully chosen logs with little to no dark heartwood and markings. Pre-planning is advised if the goal is to achieve some degree of matching within parts of a large operation because logs are very small in girth. The presence of some marks should be viewed as a feature. To determine the potential for matching supplied by the stock, one should look at the rotary-cut veneer of Birds Eye Maple.
The interior durability of maple makes it a great choice for interior joinery. It normally matches the veneer form reasonably well, although the solid frequently has darker heartwood and a few dark stains that are typically not as prominent in the veneer. Once fully cured, maple has a respectable degree of dimensional stability.
Although Soft Maple lacks the same level of sparkle as Hard Maple, Hard Maple and Soft Maple have a similar overall appearance. The heartwood is a pleasant, light brown color that might get deeper as it gets closer to the center. Paler is sapwood. I like the texture. The growth rings have an appealing figure due to their fine, black edge. The grain of wavy or curly wood enhances this form.
Hard Maple is not the most straightforward wood to work. Uneven grain might interfere with machining if it is present. In general, a nice finish may be achieved, and the wood accepts polish and stain well.
Specifications(Panel Size)
| | |
| --- | --- |
| Thickness | 1.5mm/2mm/3mm/4mm/5mm/6mm/9mm/12mm/15mm/16mm/17mm/18mm/22mm/25mm/40mm |
| Size | 1220*2440mm/1250*2500mm/1525*1525mm |
| Faces | Maple veneer both sides, sanded,Suitable for decorative use |
| Thickness Tolerance | ±0.2mm |
| Surface Treatment | Polished/Non-Polished |
| Moisture Content | 6%~9% |
| Density | 660-730kg/m3 |
| Glue emission level | E0, P2, WBP,MR |
Maple Plywood Core Construction
Thickened poplar birch core
Eucalyptus core
Birch core
Poplar core